Professional Theater Cleaning in Ashburn, VA
Experience The Difference With Our Comprehensive And Reliable Theater Cleaning Services in Ashburn, VA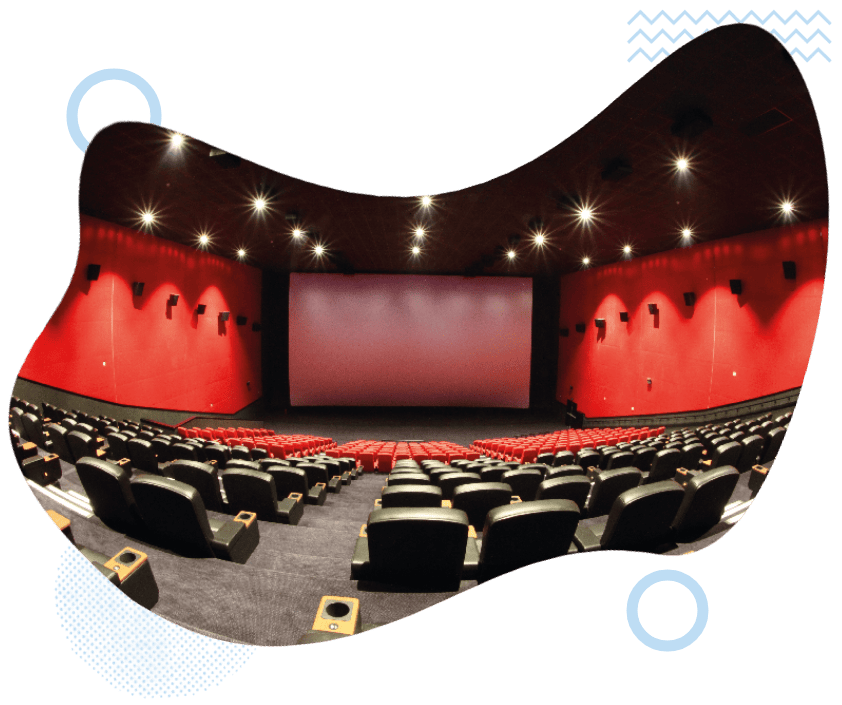 From the aisles to the seats to the cup holders, we leave no spot untouched with our professional theater cleaning services.
Our commercial theater cleaning team understands the need for clean-up on an hourly basis. Our team specializes in making your theaters clean and sanitary after each show, and a deep clean on a nightly basis from top to bottom in Loudoun County VA, and the Northern Virginia area.
Prevent The Spread Of Germs
Theaters can be high-traffic areas, with hundreds or even thousands of people passing through them every day. Regular cleaning is necessary to keep the theater environment clean and hygienic.
Removes Unsightly Stains & Spills
Theaters can be prone to spills and stains, which can be unsightly and difficult to remove. Professional cleaning services can remove these stains and spills, restoring the theater to its original condition.
Health & Safety Regulations
Health and safety regulations require theaters to be kept clean and safe for everyone who uses them. Professional cleaning services can help theaters to comply with these regulations, ensuring a safe environment for everyone.
APS Home Cleaning Services is proud to give the movie theaters in Ashburn, VA and Loudoun County a top-notch treatment with our professional movie theater cleaning services. Our movie theater cleaning services will make your customers return to a fresh and clean theater time after time.
Keeping your movie theaters clean is very important and it should be done daily. Movie theaters are usually serviced every time between shows by the on-site cleaning staff. Our company does not only clean standard surfaces in public facilities. We also take care of areas that have specific needs and characteristics. This service is just a quick touch-up.
Eager to try our house cleaning services?
Schedule a free in-home estimate today, and we'll help you find the perfect cleaning plan for your needs.
The facility needs a proper deep cleaning every night, after hours, once all the shows have ended. If movie theaters are not adequately cleaned, the restrooms will start smelling bad, the floor in the rooms will get stains, debris, and odor, etc. If you are a theater owner or manager, you are well aware of how difficult it is to keep your movie theater cleaning up to your patrons' expectations.
Movie theaters need a professional cleaning service that understands the pressure and time constraints of a busy venue. That's why, at APS Home Cleaning Service, we offer a flexible but comprehensive cleaning service in Ashburn, VA, and Loudoun County. We pay attention to detail. We know that one size fits all approach to cleaning simply doesn't work. Each Movie Theater is unique and we are prepared to meet your needs by offering customized service solutions.
Introducing Our Flexible Cleaning Schedules
No more stress about maintaining a clean theater every week! Let our cleaning experts handle the chores so you can enjoy a spotless living space.
Bi-weekly Cleaning Services
Ideal for a busy venue, we can manage your theater's deep cleaning needs every other week.
Monthly Cleaning Services
For those who prefer comprehensive cleanings once a month, ensuring a fresh and tidy space throughout the year.
We have been counted on for decades to keep these facilities clean and comfortable. People have many entertainment options for their cinema-going needs. First impressions count. That's why the cleanliness of your foyers, ticket booths, and all the public areas is so important when customers visit your movie theater. And we understand that for busy venues like yours, it can sometimes be difficult to keep your movie theater cleaning up to your patrons' expectations. That's why we help you put your best foot forward with a clean facility your patrons will enjoy. Call us at (301) 859-6946 to schedule a service.
Consistent and Professional
Expect the same dedicated cleaning crew, dressed in uniform and armed with eco-friendly cleaning solutions, to arrive at your doorstep.
We're all about making your theater sparkle your way. Our team will follow your personal checklist to ensure we meet your unique needs in the best way possible.
We regard our clients as an extension of our family, and we care about your satisfaction. That's why we make sure everything's high-quality.
Regular cleaning is essential for Movie Theaters because of high foot traffic. We have extensive experience and understand the unique needs of theaters and cinemas. Regardless of whether you are a national chain or one theater, we offer high-quality services, continuous follow-up, and onsite inspection. Our staff and supervisor are always available to offer advice and provide feedback. Our clients always come first, and our entire staff is dedicated to making sure we meet or exceed each client's cleaning expectations.
We thoroughly mop floors and clean any trash or food spills under the seats. We also clean those fixtures on the walls and make sure that they are shining nice and bright. Your bathroom will be nice and fresh and will spark once after our cleaning is done. We pride ourselves on offering flexible service plans and deliver a customized plan that includes the right mix of cleaning services to suit your operations.
No matter the challenge, we're ready, willing, and able to handle all complex cleaning needs. We keep our commitments and follow up to confirm your satisfaction.
3 Easy Steps to
Book Your Hassle-Free
Cleaning Service
Do You Have Any Questions?
Our theater cleaning services in Ashburn, VA, cover a wide range of tasks, including vacuuming and deep-cleaning floors, sanitizing seats, and armrests, cleaning and polishing handrails, removing gum and other debris, dusting and cleaning light fixtures, disinfecting restrooms, and maintaining lobbies and concession areas. We can also customize our services based on your theater's unique needs.
The frequency of theater cleaning services in Ashburn, VA, depends on factors such as foot traffic, the size of your theater, and your specific cleaning requirements. Typically, theaters benefit from daily cleaning to maintain a clean and welcoming environment for patrons. However, we can work with you to create a customized cleaning schedule that suits your needs and budget.
Yes, we prioritize the use of eco-friendly and non-toxic cleaning products for our theater cleaning services in Ashburn, VA. We understand the importance of maintaining a safe and healthy environment for your staff and patrons while minimizing our impact on the environment.
The time required to clean a theater in Ashburn, VA, varies depending on factors such as the size of the theater, the number of auditoriums, and the level of cleaning needed. Our professional cleaning team works efficiently to ensure minimal disruption to your theater's operations while providing a thorough and comprehensive cleaning service.
No, our theater cleaning professionals in Ashburn, VA, come fully equipped with all necessary cleaning supplies and equipment. We use state-of-the-art tools and eco-friendly cleaning products to deliver exceptional results while minimizing our environmental impact.
Booking theater cleaning services in Ashburn, VA, is easy. Simply give us a call or fill out the contact form on our website. We'll discuss your specific cleaning requirements, provide a customized quote, and schedule a convenient time for our cleaning professionals to visit your theater.
We take the health and safety of our staff and your patrons seriously. Our cleaning professionals follow strict safety protocols, including wearing personal protective equipment, frequent hand sanitizing, and maintaining social distancing when possible. We also use EPA-approved disinfectants to ensure a clean and safe environment for everyone.
A Quality Cleaning You Can Trust!
Don't settle for less than the best - choose our quality cleaning services for a top-notch clean