Schools & Daycare Cleaning Service in Ashburn, VA
Creating Healthy Spaces for Young Minds: Our Schools & Daycare Cleaning Service
Healthy Learning Starts with a Clean Environment - Our Schools & Daycare Cleaning Services Keep Your Facility Spotless and Safe!
Our commercial education division specializes in cleaning daycares and schools. Our highest priority is to create a germ-free environment on a daily basis. Our attention to detail is designed to keep children safe and focus on what really matters, learning day in and day out in Loudoun County VA, and the Northern Virginia area.
By reducing the spread of germs and illnesses, we can help decrease the number of absences due to sickness.
A clean school or daycare not only promotes good health but also gives parents and staff a positive impression of the facility.
Complying With Regulations
Our cleaning services ensure that your facility meets all health and safety regulations, helping you avoid potential fines or legal issues.
When it comes to Daycare and School cleaning services, it's the best idea to trust one of Ashburn Virginia, and Loudoun County's leading cleaning companies. Children deserve a clean environment in which to learn and play, and APS Home Cleaning Services can provide you with exceptional daycare and school cleaning services. APS Home Cleaning Services is exceptionally committed to providing cleaning services to Daycare and Schools.
When students are learning and interacting with each other in close environments like schools and childcare facilities, they are more susceptible to the spread of illness-causing germs, and they are exposed to germs and other contaminants that can be harmful to them and staff if it is not cleaned properly.
They leave behind scraps of paper, pencil shavings, food crumbs, drink spills, and no matter what the rules might be, candy and gum wrappers, as well as pieces of candy and gum. Also, they are much less aware or able to be responsible for germ safety, so they cough and sneeze all over everything. It can be challenging to maintain a safe and clean environment when working with children of all ages.
Eager to try our house cleaning services?
Schedule a free in-home estimate today, and we'll help you find the perfect cleaning plan for your needs.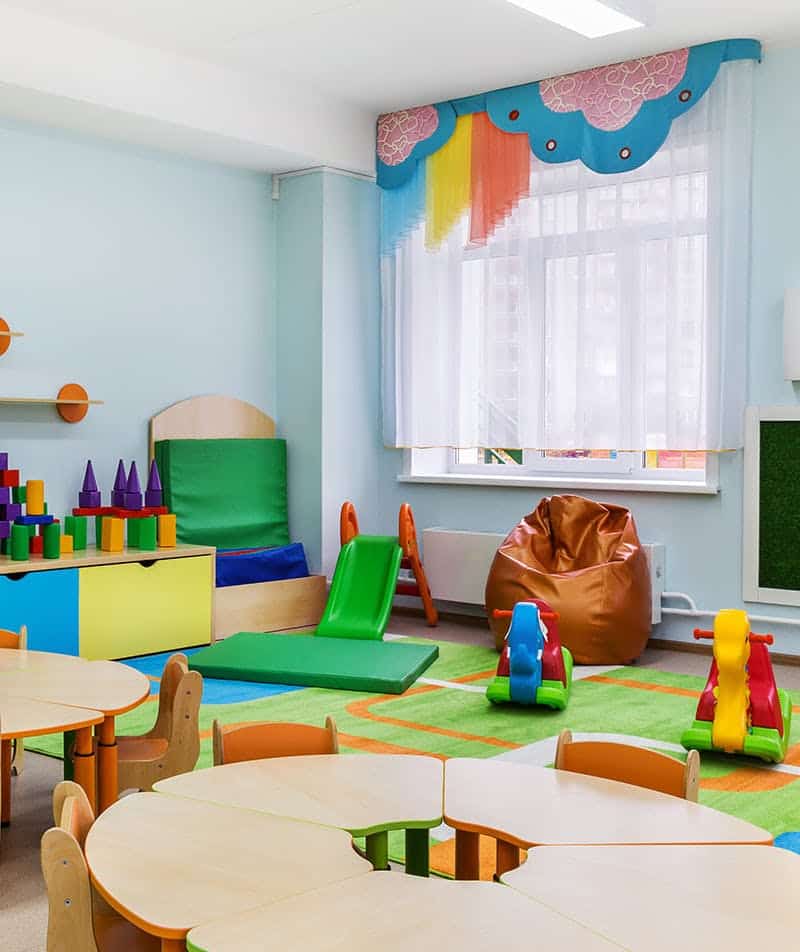 Cleaning, sanitation, and disinfecting are three significant aspects of maintenance for any daycare and school. The first is merely washing away visible soil and dirt, while the other two reduce bacteria and destroy harmful organisms on the surface. Whether pre-school or higher education or anything in between, educational facilities require janitorial or custodial services that address the high-volume, high-touch environments where the health and safety of students are paramount. Daycare and Schools require janitorial or custodial services that address the high-volume, high-touch environments where the health and safety of students are paramount. APS Home Cleaning Services has continuously delivered high-quality, customized education facility services. Call us today at (301) 859-6946. to schedule a service.
Introducing Our Flexible Cleaning Schedules
No more stress about maintaining a clean home every week! Let our expert handle the chores so you can enjoy a spotless living space.
Bi-weekly Cleaning Services
Ideal for busy lifestyles, enjoy more time for the things you love as we manage your cleaning needs every other week.
Monthly Cleaning Services
For those who prefer comprehensive cleanings once a month, ensuring a fresh and tidy space throughout the year.
We have been designed to ensure that your young students receive the benefit of a clean, hygienic environment so that they can focus on school activities. Our cleaning is done by the use of non-corrosive, non-damaging, safe cleaners, which are especially important in rooms where children eat and play.
Our proven cleaning techniques and methods are guaranteed to work in any school environment and all types of buildings. Our services can be adjusted per your school schedule and are available throughout the year to ensure that your facility will be clean and presentable at all times. We offer general maintenance as well as green cleaning solutions to meet your specific needs. Children can also leave quite a trail of dirt, crumbs, and stains, We'll safely remove ground-in food and stains from carpets and sanitize tables, toys and play areas. Our school cleaning service can help keep your educational facility as clean as possible.
Consistent and Professional
Expect the same dedicated cleaning crew, dressed in uniform and armed with eco-friendly cleaning solutions, to arrive at your doorstep.
We're all about making your home sparkle your way. Our team will follow your personal checklist to ensure we meet your unique needs in the best way possible.
We regard our clients as an extension of our family, and we care about your satisfaction. That's why we make sure everything's high-quality.
Regular cleaning and sanitation can go a long way towards controlling the spread of germs from child to child. We use cleaning products that are effective, but safe for use around children. If you are an owner or manager of an education facility, you already know and understand that it is important to work with a Professional education facility Cleaning Professional that is responsive to your cleaning needs.
3 Easy Steps to
Book Your Hassle-Free
Cleaning Service
Do You Have Any Questions?
Our Schools & Daycare Cleaning services prioritize the health and safety of children by using eco-friendly, non-toxic cleaning products, and following stringent cleaning protocols. We focus on high-touch surfaces, such as door handles, light switches, and toys, to minimize the spread of germs and keep the learning environment clean and sanitary.
Our cleaning staff receives specialized training to address the unique needs of schools and daycare facilities. This includes understanding the importance of sanitizing high-touch surfaces, following specific cleaning protocols, and being knowledgeable about the appropriate cleaning products to use in these environments.
Yes, we understand that schools and daycare facilities have busy schedules, which is why we offer flexible scheduling options to minimize disruptions. We can arrange our cleaning services before or after school hours, during breaks, or on weekends to accommodate your facility's needs.
The frequency of cleaning for schools and daycare facilities depends on factors such as the number of children, the age of the children, and the specific needs of your facility. We typically recommend daily cleaning for daycare facilities and at least weekly cleaning for schools. However, we can customize a cleaning plan based on your facility's requirements.
Yes, we offer deep cleaning and sanitizing services to help combat the spread of illnesses during flu season or outbreaks. Our team will thoroughly clean and disinfect all surfaces, paying special attention to high-touch areas, to ensure a healthy and germ-free environment for children and staff.
Absolutely. We understand the importance of safety and security in schools and daycare facilities. All of our cleaning staff undergo thorough background checks and receive extensive training to ensure they are reliable and trustworthy.
A Quality Cleaning You Can Trust!
Don't settle for less than the best - choose our quality cleaning services for a top-notch clean